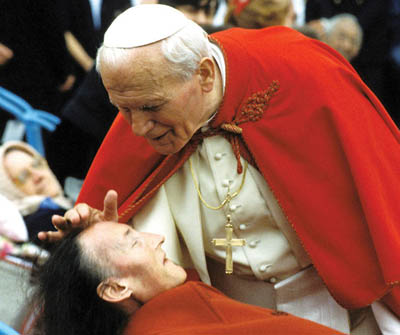 During a visit to Australia, I witnessed a funeral on television that I have never forgotten.  It was April 8th, 2005, and the funeral was that of Pope St. John Paul II.Rome, the eternal city, was flooded with over a million foreigners that came to pray for a man most of them had never actually met.  Thousands overflowed from St. Peter's square that day for the funeral Mass of a man regarded by many as John Paul the Great, Johannus Paulus Magnus, a son of Poland who became one of the greatest figures of the 20th Century.
Gathered together for the same occasion just above the steps in front of the Basilica were over 200 of the world's dignitaries.  Snipers were set out across Vatican City, Rome's airport was shut down, military ships were standing off the coast of Italy, fighter planes were prepared for a defensive stand, authorities had special forces sweeping the Tiber River for explosives.  Even more impressive was the fact that known political enemies were sitting two seats apart, perhaps for the only time in history.   Presidents, prime ministers, princes, and kings came to pay their respects to a man few of them understood and in whose shadow all of them fell.  These men, who in temporal terms are the most powerful on the face of the earth, were dwarfed that day by John Paul II.
A simple Polish priest who became the bishop of Rome, in whose last years had visibly been beaten down by disease, touched humanity to such an extent that the memory of his life was enough to shrink the world on April 8th, 2005.  Why?  How is it that the death of a man who stood directly counter to the vast majority of world opinion, whose ideals and beliefs challenged and were in return challenged by so many in politics and the media, brought the world to a standstill?
The answer is simple:  by being a witness.  John Paul II was, in a way that words fail to capture, a living witness to something beyond this world.  As the Vicar of Christ, John Paul the Great was a world leader, but he was also something more. He was a sign of hope – a hope for something greater than anything this world has to offer, the promise of a joy that never ends and is for anyone – and meant for everyone.  In a world where so many find themselves lost and confused about the meaning of life, in particular their life, John Paul II pointed to a destiny that promised the fulfillment of their deepest longings.
He taught the world about the primacy of love through the very life he lived.  He was like a mirror, reflecting back to people that innate desire to love and be loved.  He called out to that truth.  He awoke the longing in the soul, the longing that God gives to all of us.  John Paul II was the face of Jesus Christ to the world – and that face is love.
St. Augustine once said in a sermon, "There is not one who does not love something, but the question is, what to love…But how can we choose unless we are first chosen?  We cannot love unless someone has loved us first.  Listen to the apostle John: We love him, because he first loved us.  The source of man's love for God can only be found in the fact that God loved him first."[i]  John Paul II illustrated to each human being the love that God has for him.
Only in God do we find rest, only in Jesus Christ do we find the answer to the question of human life.  That is why an estimated 2 billion people watched the funeral Mass of John Paul II; why the world's most powerful leaders were displaced from the center of attention that day.  It also explains why he is so dearly missed – because he reminded all of us of our purpose in life and the one thing that can satisfy our deepest longing:  the love of the Divine Trinity, Father, Son and Holy Spirit![ii]  In his own words, "Man cannot live without love.  He remains a being that is incomprehensible for himself, his life is senseless, if love is not revealed to him, if he does not encounter love, if he does not experience it and make it his own, if he does not participate intimately in it."[iii]
We have all, at some time or another, experienced that deep anxiety that makes us wonder whether we can ever be truly happy.  We know through personal experience that St. Augustine was right when he said our hearts are restless until they rest in God.  And yet so many people, our neighbors, our co-workers, our acquaintances, even our family, don't realize that God is what brings rest to the heart, God is what quenches the deep thirst of desire.  They sense a magnetism for people like John Paul II and Mother Teresa, but they don't yet see why.  They search, sometimes with no success, to find the peace and joy that others experience.  A person like John Paul II forces many to ask the fundamental questions in life.
For those of us who do know the joy that comes from giving our life to God, we need to allow our Lord to use us in whatever way He chooses.  He is calling us to help that person mystified by the John Paul IIs of the world know what is going on in his life, to make sense of his deepest longing that never seems fulfilled.  Who is going to help him find the source of rest for his restless heart?  Who is going to encourage him when he doubts?  Maybe we should first be reminded who helped us. For those of us unsure of God and His existence, or unsure about Christianity in general, continue searching.
[i] Taken from the Tuesday Office of Readings, Third Week of Easter
[ii] "Being Christian is not the result of an ethical choice or a lofty idea, but the encounter with an event, a person, which gives life a new horizon and a decisive direction."  Pope Benedict XVI, Deus Caritas Est, pp 1-2.
[iii] John Paul II, Redemptor hominis, quoted in Familiaris Consortio (Boston:  Pauline Books and Media, 1981), paragraph 18.